Is Your CRM Solution Working for You?
By using a stock solution not tailored to your unique needs, you're likely losing money, generating inaccurate customer data, and failing to meet your customer's expectations. At the end of the day, CRM is a business tool. Your business tools should support your process, not your processes support your tool.
Build a Holistic Solution
Bring the Contact Center and CRM together
In this whitepaper, we explain 5 reasons why bridging the CRM and contact center gap is crucial to providing excellent customer experience.
CRM Solutions from PTP
Implementing a CRM solution from PTP will allow your support team to get a lot more done in a lot less time.
Gather Customer Data
The right customer data allows you to provide better service.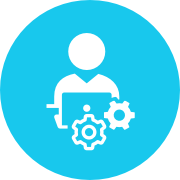 Work More Effectively
Cut costs and streamline your sales and service processes.
Get More Out of Your Investment
Stop wasting money on a valuable tool that you're only scratching the surface with.
We're passionate about creating the best possible customer experience
Our senior team of professional engineers and analysts create holistic solutions to bridge together the CRM and contact center for some of the top brands in the world.
Our CRM Services
Our integrated CRM solutions are customized to meet your service and sales needs.
CRM Optimization

Case/Ticket Management, Process Automation, AI Chat Bots, SLA Enforcement, Knowledge Management, Contact Center Telephony Integration, and Self-Service
Salesforce Service Cloud Optimization
Improve Customer Experience
If you're looking for the best solutions to improve your customer experience and win more happy customers, fill out the form below to download our eBook.