HOW A HOUSEHOLD NAME COMPETES ON
Customer Experience in the Digital Age
Toyota Financial Services (TFS) needed a solution to replace their current contact center infrastructure, as well as optimize their inbound and outbound voice self-service solution. PTP conducted a full assessment of business requirements and drivers, then developed a technological strategy to support a seamless customer experience.
THE CHALLENGES
Due to an outdated contact center platform, TFS was experiencing significant difficulties with customer retention, which resulted from challenges such as:
No integrated security solution

A lack of options for customers to handle auto loan inquiries, and no customized call paths for dealers or direct consumers

Insufficient service for Spanish speakers, which made up a high volume of calls

Limited CRM tools that lacked web-based solutions
A Tailored Technological Solution to Address Customer Needs
PTP constructed a comprehensive solution for TFS, building in a diverse range of technological features to improve the system as a whole. Our solution included:
A Customer Journey Roadmap

Laid the groundwork for better user experiences now and in the future, incorporating customer personas and voice recognition to reduce customer frustration and wait times.

More Self-Service Options

Empowered customers over the web and phone, providing increased customer control over call paths.

Improved Server and Back-End Interfaces

Supported usability, sped up call routing, and slashed costs.

Optimized Call Routing

Routing based on customer value, history, troubles faced, and agent availability boosted customer retention and reduced operational costs.

Fine-Tuned Telephony Mechanisms

Delivered a marked improvement in customer authentication and automation.
6% increase
in customer authentication and automation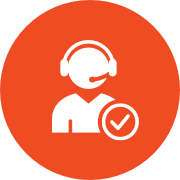 Accelerated call routing and increased usability
Reduced operational costs
Increased customer retention
ABOUT
Toyota Financial Services (TFS) is a leading provider of auto loans and financial products and services for customers, dealers, and direct consumers across the U.S.
CAN BE YOUR SUCCESS
Since our beginning, we've been passionate about helping our clients provide the best customer experiences possible. This passion, combined with a lot of knowledge and hard work, has allowed us to work with some of the top brands in the world. And we'd like to do the exact same for you. Just give us a call to get the conversation started.