Integrating the Contact Center and CRM
Delivering One Customer View
Seeking a competitive edge in the delivery of exemplary customer experience, Grainger reached out to PTP for an effective solution that would integrate their key service systems. We delivered a unified Enterprise Customer Support System, connected their Contact Center Infrastructure (CCI) and Customer Relationship Management (CRM) tools for a highly effective final product.
THE CHALLENGES
As a newly-formed company, Grainger discovered they were in need of an effective strategy for managing customer service, ordering, and supply chain processes. They faced the following challenges:
A less-than-optimal customer experience, which would chip away at one of their competitive differentiators

Out-of-sync customer management, customer outreach, and contact center systems

A difficult buying process

A lack of information about future buying patterns
Integrating the Contact Center with CRM
Grainger needed a strategy to unify their most vital processes, which required a full assessment of the people, processes, and technology that powered the relatively new company. Our solution included:
Reimagined Enterprise Customer Support Center

All service, marketing, and order management systems were integrated for a more streamlined approach.

Full Review of Operations and Customer Experience Needs

A thorough assessment allowed PTP to provide highly-tailored, actionable recommendations for improvement, as well as a holistic view of the larger customer experience.

Salesforce Service Cloud Implementation and Marketing Cloud Redesign

Rebuilding systems and processes to better serve both staff and customer needs.
14,000 customers acquired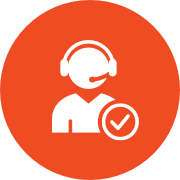 Unification of customer service, ordering, and supply chain processes
ABOUT
Grainger is one of the nation's leading distributors of industrial and safety supplies, serving more than 3 million public and private sector customers in a diverse range of industries including manufacturing, education, hospitality, retail, and government.
CAN BE YOUR SUCCESS
Since our beginning, we've been passionate about helping our clients provide the best customer experiences possible. This passion, combined with a lot of knowledge and hard work, has allowed us to work with some of the top brands in the world. And we'd like to do the exact same for you. Just give us a call to get the conversation started.