On Tour With Einstein and the Salesforce Crew
PTP was on hand with Salesforce, Einstein, and other mascots with large heads to explore customer service, patient experience, and omnichannel explosions.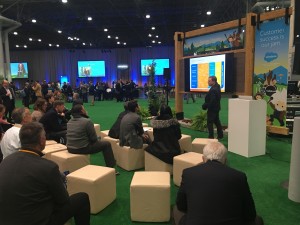 You might have heard of Salesforce. Yes, perhaps the largest CRM on the planet, and for good reason.
PTP has been a partner of Salesforce for some time, and we have a stable of Salesforce certified professionals on our staff that help our clients implement and optimize the tool, including the Service Cloud offering, to ensure the most seamless customer experience possible.
Salesforce also knows a thing a two about events. Their flagship event, Dreamforce, takes over San Francisco once a year and draws over 150,000 people. But Salesforce also has their World Tour events, which we sponsor and attend.
A few days ago, we were at the Salesforce World Tour New York City, and I wanted to share a few observations that we're seeing happening in the call center and customer experience environment.
Namely, the continued movement toward Omnichannel, and the push for healthcare to catch up with retail and provide greater patient experiences.
The Omnichannel Explosion is Upon Us 
We at PTP have been talking for a long time about the ever increasing need for an omnichannel solution. And that is, providing a seamless – and interactive – experience with your customers in whatever way they choose: from inside a store or facility, to a desktop device, to a mobile device, to a phone call, email, chat, text…you name it. And ensuring that experience carries all the way through the journey: From the minute they encounter your brand, to when they complete a purchase, and back around again. It's empowering your customer so they want to come back again and again.
Salesforce is now picking up on the trend and has introduced us (or should I say 're-introduced us') to Einstein.
Salesforce Einstein is essentially an artificial intelligence agent built into the core platform. Einstein sits in the background and proactively pushes data and solutions to call center agents – and customers, as necessary – based on the customer's profile and information, and the specific interaction taking place.
Einstein dovetails right into the omnichannel experience. It's a step toward the future by creating a digital agent that can identify customer information and preference and deliver an interaction the way the customer prefers.
Throw in many of the other organizations who are deploying AI agents, looking at consolidated channel management, and other means of digital assistance, and the industry is moving in the direction we have been saying it would go: Intelligent Omnichannel.
Einstein could prove to serve a wider audience the more the adoption takes place.
The Patient Experience Isn't Limited to the Facility
Another area that we at PTP have been talking about is extending the patient experience beyond the actual in-facility patient care.
In other words, it's not just about the patient's experience at the hospital or doctor's office (which, is admittedly very important), but it's also about the experience before they enter the facility, when they leave, in between visits, and the full cycle throughout. Not only just for the patient, but for family and caregivers, as well.
At the event, we talked with a number of healthcare professionals who are embracing this concept.
Just a couple of weeks ago, we sponsored and attended the NGPX conference, or Next Generation Patient Experience conference. We met some amazing people and I had the pleasure of presenting on the Omnichannel Explosion.
The focus there was, again, more on the patient experience while in the facility. The in-patient experience, if you will. But what had had light coverage was the communication before, after, and during.
That's where Salesforce Health Cloud is stepping in to help. And that's where we at PTP offer services to ensure healthcare organizations deliver a full rounded patient experience so those folks will not be quickly readmitted for the same issues, stay healthier, stay informed, choose your hospital next time, and even refer their friends and relatives.
The healthcare industry is certainly seeing the value in this process and driving to make steps in that direction. Their growth and sustainability depends upon it. As more people get used to receiving this type of experience from their retail and other vendors, they will begin to expect it from their healthcare providers, as well.
Supporting the Tour
New York wasn't our only stop with our partner. We've hit stops in Chicago, DC, and of course, San Francisco for the mothership Dreamforce event. 
If you're attending one of the upcoming stops, come find us and say hi! Never know what we may teach each other.
Two decades of experience in customer relationship management (CRM) strategy and information technology transformations allows me to bring simplicity to complex CX challenges. As a certified PMP, I understand the system development life cycle and the role that upfront strategy can have on the success of a solution implementation. I value shared goals and imparting knowledge to ensure that you realize your customer goals and business revenue.
DON'T MISS A POST!
Subscribe today to have our stories delivered directly to your inbox.